Best Horse Racing Betting Sites For U.S. Bettors
The best horse racing betting sites for U.S. bettors are some of the most recognized online racebooks in the world. The reason being is that they don't just have odds for races happening in the U.S. but also in other countries. If you're following a particular horse or a particular trainer, chances are you can bet on that horse no matter where it's competing. That means you're not just limited to betting on the Kentucky Derby and best of all, you're not limited to the number of bets you can make.
There are several factors you have to consider when looking up the best horse racing betting sites for U.S. bettors. The first question you'll have to figure out is whether or not using these sites is legal. After that, you'll need to know which sites actually offer odds on horse races and are guaranteed to pay out winnings. We'll cover these subjects as well as cover the online horse wagering industry in general. We'll even answer a few questions that many first-time horse bettors may have when using USA online gambling sites for their chance to win big on the ponies.
Most Popular Horse Races To Bet On
There are many big-time races to bet on throughout the year, but the most popular horse races to bet on for Americans are definitely all three legs of the Triple Crown. The first leg is the most popular. That's because the Triple Crown begins when the roses are put on the winner of the Kentucky Derby. The race has been coined the "most exciting two minutes in sports" and for good reason. The amount of money on the line for everyone watching can reach substantial numbers, leaving some feeling better than the horses that won the race.
The other most popular horse races to bet on are the Preakness Stakes and the Belmont Stakes. The Preakness Stakes takes place in Baltimore, Maryland two weeks after the Kentucky Derby. Bettors and horse racing enthusiasts will wait anxiously to see if a Triple crown is in the works. If the same horse wins that race then the Belmont Stakes will be the most popular horse race to bet on all year. That occurs two weeks after the Preakness Stakes and is the highlight of may horse race bettors Summer.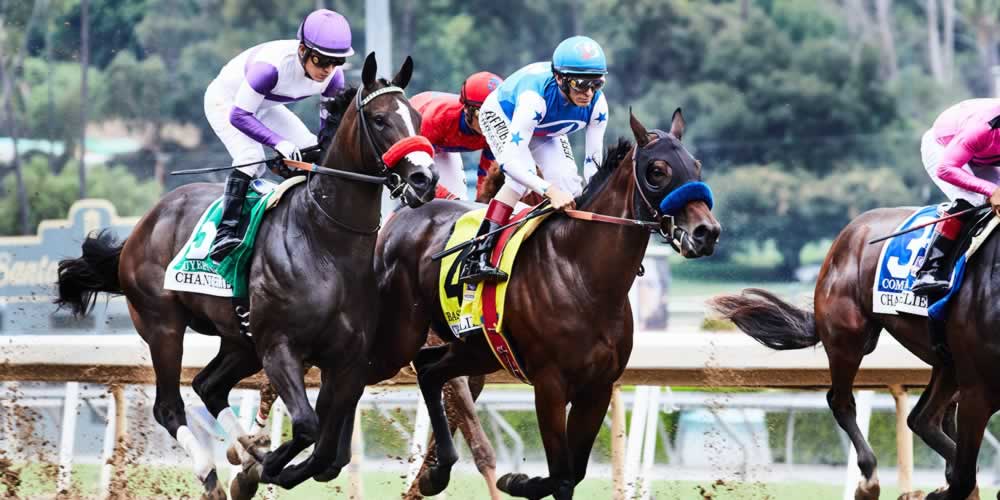 Top Wagers For Horse Racing
There are a number of top wagers for horse racing but they can be categorized in two main ways. The first way is through your standard win, place, and show bets. With a win bet, you're simply picking which horse you think will finish first in the race. These are the most difficult to predict so you stand to get a higher payout. With the place bet, the horse you pick can either finish in first or second for you to cash in on your pick. A place bet is just one more extension of that and allows you to have a winning bet if the horse you choose finishes in either first, second, or third.
Another popular way in which people bet on horses is through exotic bets. For example, a quinella bet involves you picking two horses to place first or second in any order. Exacta betting is the same except you have to pick how the two horses finish exactly. Trifecta betting adds one more pony to the mix and requires you to bet on three horses to finish first, second, and third in the race in the exact order you choose. A superfecta bet is the same except now you have four horses to consider betting on. Daily Double's and Pick 3's are bets in which you bet on certain horses to win in multiple races that same day.
There is also futures betting which works more similar to other sports. For example, an online racebook can offer odds on which horse is going to win a certain race. You could then bet on a horse to win at +500 odds, +1000 odds, or so on. These are usually seen as top wagers for horse racing by people who are new to betting on the ponies.
Are Internet Horse Racing Wagers Legal In The U.S.?
Yes, absolutely and you have a number of different options. The first being ones that are regulated in states. For example, TVG and TwinSpires are popular options, although they can be limited to the number of states in which they are available. The other legal U.S. Horse Racing Wagers that are available to U.S. citizens are ones that actually operate overseas. The reason being is that because of their location they are free from the jurisdiction of individual state governments and the federal government. There are also no laws written that explicitly bar you from using offshore-based online racebooks. Sites like Bovada and BetOnline have comprehensive racebooks that allow you to put money down on win, place, and show bets while also giving you the opportunity to bet on future odds. You can visit either type on online horse wagering site knowing that you are in your legal right to do so.
Online Horse Racing Industry
For years now, the annual growth of the horse racing industry has been on the decline. Horse racing tracks have had a harder time competing with other gambling activities but they also have a hard time competing with online horse racing sites. The total revenue in 2018 hit $4 billion but a large portion involves betting on horses online. The amount of revenue generated from offshore online racebooks like Bovada and Sports Betting also can't be tracked so there is no telling how much money is actually slipping away from racing tracks due to the popularity of online betting. Most online forums and horse racing enthusiasts can agree that while online horse racing betting is far more convenient for the bettors, it also is taking away from traditional tracks and off-track betting facilities.
Best Horse Racing Betting Sites FAQs
Yes, and if you happen to come through one that isn't, we suggest you avoid it. Signing up should be free, but if you want to put real money down on a race then you will have to make a deposit into your account. Once you've signed up and put money into your account, you're free to bet on any race they have posted.